PO BOX 880, Northampton, MA 01061-880
mailto:ohno@tompappalardo.com
THINGS I DO
Professionally, I'm a graphic designer, illustrator, and After Effects animator. I like clean, flat, and bold. I work under the name Standard Design. Subprofessionally, which I'm pretty sure is a word, I am a writer, a cartoonist, and an art-maker. I've released a couple of books. Unprofessionally, I write rock songs in the drum & guitar duo The Demographic. I had a song on Car Talk once. I had a bit part in a PIXIES video, too. That was weird. I designed a big-ass mural in Easthampton, Massachusetts.
FREELANCE DESIGN, ILLUSTRATION, & ANIMATION WORK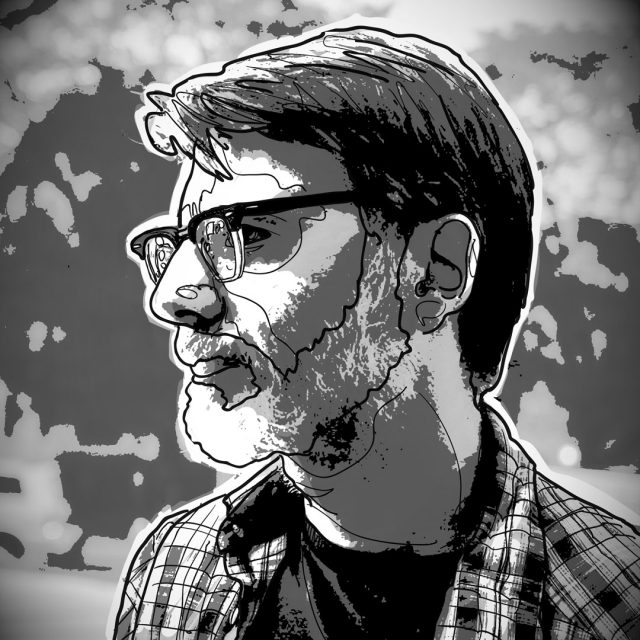 I've created work for national/international brands including Forbes, Audubon, Smithsonian, Clinique, VIBE, Merriam-Webster, Pfizer, TV Guide, FX Network, Men's Fitness, Marvel Studios, Rolling Stone, Tesco, Calvin Klein, AMC, Bank Of America, Estee Lauder, GQ, Farm Aid, Reductress, Car & Driver, GOOD Media, and a whole bunch more.
I have produced print and digital media work for non-profit and educational institutions including National Priorities Project, Stanford University, Free Press, Represent.Us, Civil Liberties And Public Policy, Media Education Foundation, and Smith College.
Locally, I've worked with Young@Heart Chorus, Turn It Up!, WRSI The River, The Roost, Green Bean, The Valley Advocate, Indigo Coffee, Northampton Film Festival, Cow Island Music, WFCR, New Century Theater, Greenfield Center School, and Whole Children/Pathlight. Click here to view my freelance design portfolio.
MY GRAPHIC WORK HAS BEEN FEATURED IN THESE FINE BOOKS
It's Only Rock & Roll But I Like It: More Real Rock Art for Real Rock Bands
(2013)
Gig Posters Volume 2
(2011, Quirk Books)
Typeface: Classic Typography for Contemporary Design
(2009, Princeton)
Naive: Modernism and Folklore in Contemporary Graphic Design
(2009, Gestalten)
Panda Meat Vol. 1 (2005, Last Gasp)
Art of Modern Rock: The Poster Explosion
(2004, Chronicle Books)
MY COMICS & WRITING HAVE APPEARED IN
Andromeda Spaceways, Huffington Post, Wired.com, Gizmodo.com, The Boston Phoenix, Meat For Tea, Play (anthology), Laughing Squid, The Gigposters Coloring Book, Shelter (anthology), The Valley Advocate, Royal Flush magazine, I Want Your Skull, Letter X, VMAG, Aftertaste, Boston Accent Lit, Lollipop, FORTY-3, and Don't Shoot! It's Only Comics.
PUBLISHED BOOKS/COMICS
One More Cup Of Coffee (2016)
Everything You Didn't Ask For (2014)
OPT11 (2012 comic, OOP)
OPT10 (2011 comic, OOP)
Even Lions Will Fear You (2009 comic, OOP)
Famous Fighters (2006 comic w/ Matt Smith, OOP)
Failure, Incompetence (2005)
Through The Wood, Beneath The Moon (1998 comic w/ Matt Smith, Caliber Comics)
Alec Dear: A Dark Pome (1996 comic w/ Matt Smith, Xeric grant recipient, OOP)
ALBUMS
The Demographic:
Listen Close (2013, bandcamp)
Bleak and Hollow (single, 2013, bandcamp)
Verse Chorus Curse (2011, bandcamp)
The No-Shadow Kick:
Spatializing Sound In The Time Domain (2005, bandcamp)
The Promo EP (2001, bandcamp)
Basement Make-Out Party (1999, bandcamp)
SHOWS & EXHIBITIONS:
SORRY-GO-ROUND – The Green Bean, Northampton, Mass. (2016)
SORRY-GO-ROUND – The Rendezvous, Turners Falls, Mass. (2015)
LOOK 5 – FOE Gallery, Northampton, Mass. (2015)
dECAde – Easthampton, Mass. (2015)
LOOK 4 – FOE Gallery, Northampton, Mass. (2014)
Oya Festival – Oslo, Norway (2009)
Beans And Screens – Durham, NC (2008)
Art or Advertisement? – Charleston, SC (2007)
YINZ GOT POSTERS – Pittsburgh, PA (2007)
Graphic Noise – Museum of Design, Atlanta (2005)
Updated Sept. 2017