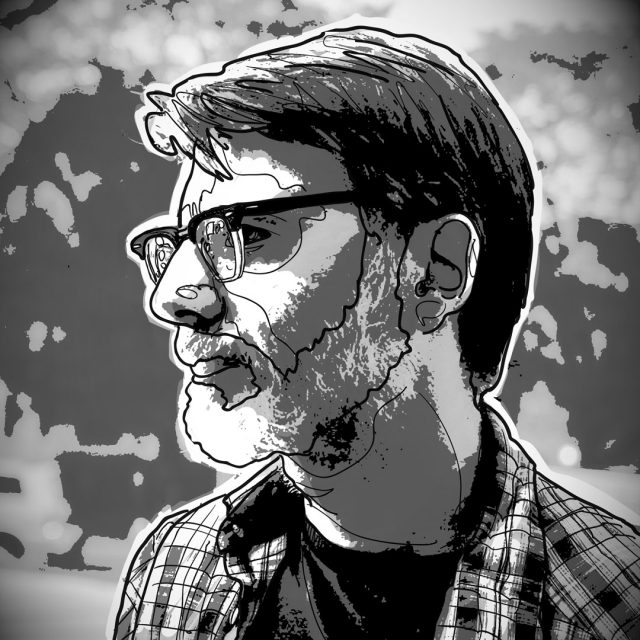 Contact: PO BOX 880, Northampton, MA 01060 | email | newsletter | design portfolio
Social: Facebook | Twitter | Instagram | Goodreads
Book search: Powell's | Indiebound | Amazon | Barnes & Noble | Broadside Bookshop
---
• Professionally, I'm an independent graphic designer, illustrator, and After Effects animator. I like clean, flat, and bold. My portfolio is over at Standard Design. This site does not deal with that stuff. That's why I have that site.
• Subprofessionally, which I'm pretty sure is a word, I'm an author, cartoonist, and an art-maker. I've released a few of books. I published a weekly comic for five years, then I stopped.
• Unprofessionally, I write rock songs in the drum & guitar duo The Demographic.
• I live in western Massachusetts. I am from eastern Massachusetts. I live in a manky old house with a cat named Charlie. I had a song on Car Talk. I had a bit part in a PIXIES video. I used to drive a cool Ford and now I drive an extremely uncool Ford.
---
Books & Comics:
Broken Lines (2018)
One More Cup Of Coffee (2016)
Everything You Didn't Ask For (2014/18)
Famous Fighters (2006 comic w/ Matt Smith, OOP)
Failure, Incompetence (2005 comic, OOP)
Through The Wood, Beneath The Moon (1998 comic w/ Matt Smith, Caliber Comics, OOP)
Alec Dear: A Dark Pome (1996 comic w/ Matt Smith, Xeric grant recipient, OOP)
Albums:
The Demographic:
• Listen Close (2013)
• Bleak and Hollow (single, 2013)
• Verse Chorus Curse (2011)
Tom Pappalardo (solo):
• Alonely (1992-1999)
The No-Shadow Kick:
• Spatializing Sound In The Time Domain (2005)
• The Promo EP (2001)
• Basement Make-Out Party (1999)
My Graphic Work Has Appeared In:
It's Only Rock & Roll But I Like It: More Real Rock Art for Real Rock Bands
(2013)
Gig Posters Volume 2
(2011, Quirk Books)
GigPosters.com Coloring Book No. 3 (2010)
Typeface: Classic Typography for Contemporary Design
(2009, Princeton)
Naive: Modernism & Folklore in Contemporary Graphic Design
(2009, Gestalten)
Panda Meat Vol. 1 (2005, Last Gasp)
Art of Modern Rock: The Poster Explosion
(2004, Chronicle Books)
My Stories Have Appeared In:
Wired, Gizmodo, Boing Boing, Juked, Andromeda Spaceways, Boston Accent Lit, The Valley Advocate, Meat For Tea, The Boston Phoenix, Play (anthology), Laughing Squid, Shelter (anthology), Royal Flush magazine, I Want Your Skull, Letter X, VMAG, Aftertaste, Lollipop, FORTY-3, and Don't Shoot! It's Only Comics.
Shows and Exhibitions:
SORRY-GO-ROUND – The Green Bean, Northampton, Mass. (2016 solo show)
SORRY-GO-ROUND – The Rendezvous, Turners Falls, Mass. (2015 solo show)
LOOK 5 – FOE Gallery, Northampton, Mass. (2015)
dECAde – Easthampton, Mass. (2015)
LOOK 4 – FOE Gallery, Northampton, Mass. (2014)
Oya Festival – Oslo, Norway (2009)
Beans And Screens – Durham, NC (2008)
Art or Advertisement? – Charleston, SC (2007)
YINZ GOT POSTERS – Pittsburgh, PA (2007)
Graphic Noise – Museum of Design, Atlanta (2005)
Updated 3/2019