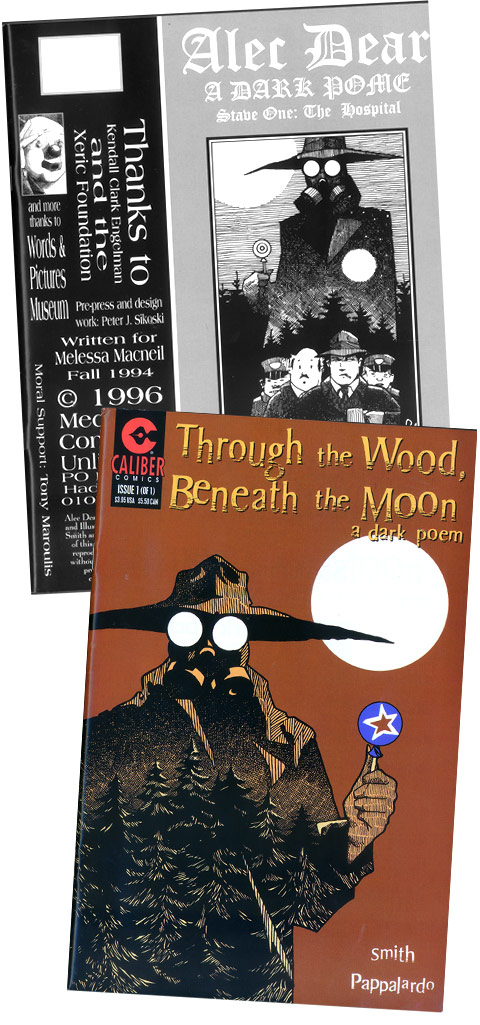 (1996/1998, out of print) The blurb: "Find out what Alec Dear, the mischievous gasmask-wearing dead guy does when he finds himself in the burn victim unit of a secluded children's hospital!"
Zowie fun times! I wrote Alec Dear while sitting behind the cash register at an All For A Dollar store in a mall in the early '90s (a perfect setting to write grotesque horror, if you ask me). I tried drawing it, but knew my good buddy Matt Smith had more talent and vision than I did, so he took on the art side of things. We somehow received a Xeric grant for the project, and independently released it in 1996. In 1998, after we revised the art and writing and made it super-awesomer, Caliber Comics released it as Through The Wood, Beneath The Moon. I failed to request a proof copy, and it was published with several completely avoidable typos. Lesson learned.
We both loved the Alec Dear character. I wrote and Matt half-illustrated a pretty fantastic story about Alec going to Hell and becoming the new Satan, but the project was never completed. Here is a 15-page excerpt, Midnight At The Crossroads. Alec also appeared in The Edification Of Young Chet, an eight-page story in Aftertaste magazine in 1998.
OUT OF PRINT
---
Links
* Reviews of AD & TTWBNM
* Midnight At The Crossroads and The Edification Of Young Chet
* Famous Fighters (also with Matt Smith)