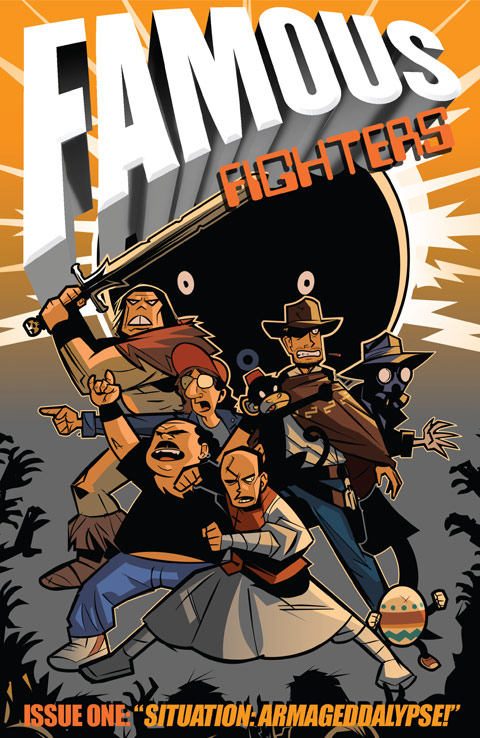 (2006, 54 pages, out of print) Welcome to the amazingly adventurous multiverse of FAMOUS FIGHTERS – hardy heroes of unknown origins who clash in the eternal quest for ultimate superiority in the fighting arena! Watch these brave brothers of battle bruise their nasty nemeses! Read tremendous tales of incredible confrontations of eternal foes! Bear witness to their berzerking bloodbaths as they tear across the killing fields of their own mutilated destruction! FIGHT! FIGHT!
Throughout mankind's battle-scarred history, the great and fearsome FAMOUS FIGHTERS have longed to fill the Halls of the Dead with the damned souls of their enigmatic enemies! Barbarians! Robots! Demons! Headbangers! Zombies! Recapitated heroes with penultimate powers beyond imagination! At mortal odds under the blood-soaked banner of world domination, these valiant warriors of dark demonic destruction shall never yield! They are FAMOUS! They are FIGHTERS! They are FAMOUS FIGHTERS!
Written and illustrated by Matt Smith and Tom Pappalardo.
OUT OF PRINT
Additional Links
* Reviews of Famous Fighters
* Other collaborations with Matt Smith: Metal Quest and Alec Dear
* Please visit matt-illustrations.com