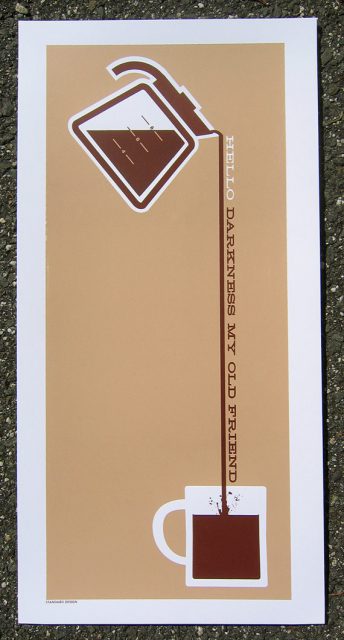 In print since 2008 or so, this art print has been one of the more enduring things I've made. Ten plus years later and I'm still taking orders, still rollin' posters and puttin' em in tubes, still taking trips to the post office. It's nice. I'm glad y'all like it. This design is currently available as a 2-color signed 10″x20″ screenprint and a 3″x9″ vinyl bumper sticker.
* The print and stickers are available in the store
* Or you can purchase on Etsy:  screenprinted coffee poster | 3-pack of stickers
---
See also:
Coffee The Earth (digital print)
A parody of one of the finest logos ever created – the Sherwin-Williams paint logo. Oh god I love it so much.
---
See Also:
One More Cup Of Coffee (essays)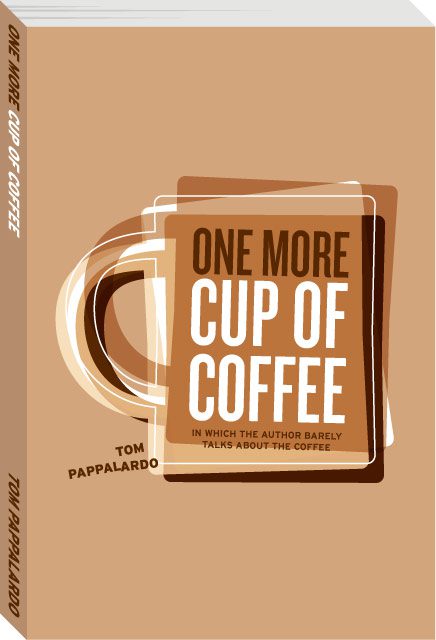 In Which The Author Barely Talks About The Coffee Follow author Tom Pappalardo on a black coffee tour of cafes, diners, and convenience stores, as he travels the potholed side streets and witch-cursed back roads of Western Massachusetts. Grab a table and sit. Nod and smile at whatever the waitress brings you. Does it taste like a 9-volt battery dipped in old, hot Coke? Good. You're in the right place.
"Hilarious shorts… a consistent supply of laughs." — Publishers Weekly
At times, it's laugh out loud funny, and at other times, you are like what the f—." — Goodreads reviewer
"Beautifully illustrated… The book gave me distinct pleasure and joy." — The Bill Dwight Show