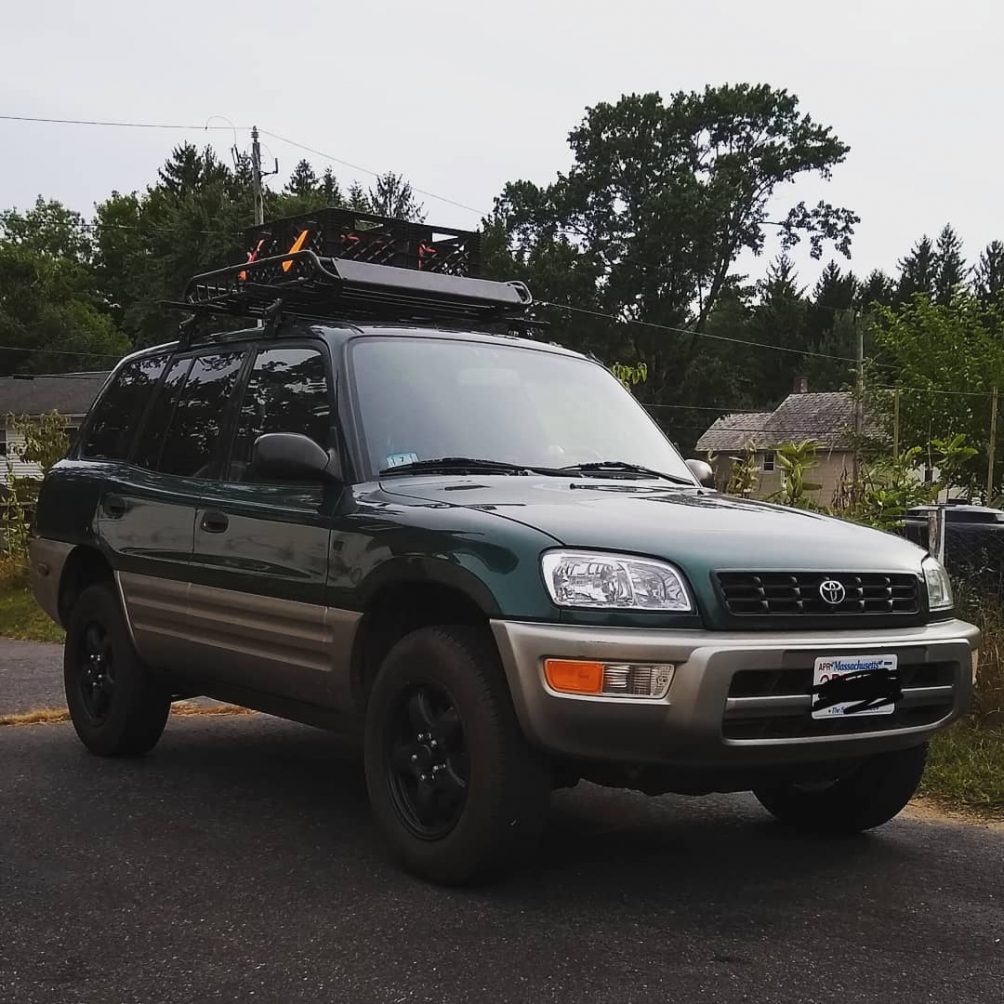 This is a page to document the things I do right & wrong to this vehicle.
First gen 1998 Toyota RAV4 SXA11
5-speed, AWD/4WD, 104k on the odometer
Purchased July, 2020. It's my pandemic project.
UNDERCARRIAGE/RUST
I've been working on some rust mitigation (I'm not foolish enough to claim 'rust removal'… It's a 22 year old car in Massachusetts). Scrape. Grind. Permatex Rust Dissolver Gel. Degrease. Corroseal Rust Converter. Paint with Rust-Oleum Farm and Implement. Will it hold up? We'll see in 6 months.
The undercarriage is… ahh, not as bad as it could be? It's in decent shape (relative to New England) from the front bumper to say, mid-body. After that it goes downnnhillll (there will be a lot of grinding this fall). I'm also spraying lanolin-based Liquid Film into every frame drain hole.
Then there's the passenger side fuel tank strap. Fuuuuuck! This bolt is the worst problem I've run across so far in terms of safety, and I've decided not to deal with it. By which I mean I've added two additional supports so if/when the strap fails, the tank won't drop to the ground or drag on the driveshaft. Basically, I'm deferring this problem until it fully fails, then I'll deal with it. New gas tank was installed in 2018. Mechanic musta overtorqued. Friggin YIKES.
The rear diff mount looks cruddy enough that I bought a new one from Rock Auto. As a stopgap, I shot some Sikaflex in the front bushings and the old rear mount. I unfortunately ordered a tube of white instead of black, so my bushings look like little frosted cupcakes. At least for the short term, shifting is a lot less ka-chunky, so cool. Worth the effort and terrible look.
ENGINE/DRIVETRAIN
Right off the bat, I covered the basics under the hood: New NGK wires and Denso PK20TR11 spark plugs. Oil change. I replaced the old gunked up PCV valve (dropped a chunk of the old cracked grommet into the header while pulling it out. ffffff. Crisis averted with tweezers and needle nose pliers). I added a new air filter and cleaned the throttle body and intake hoses. The above made an appreciable improvement on engine performance.
I read/watched enough pros and cons online about cold air intakes to decide the stock air intake is the best route from a computer-not-throwing-codes point of view). I might insulate the stock air intake. I might improve the airflow into the stock box. I dunno. I've been intermittently swapping out dirty power steering fluid with a turkey baster (thank you, Scotty Kilmer). I topped off two of the battery cells with distilled water. I've also done a bit of cleaning up under the hood. Not for any show off reasons, it just annoys me to have a dirty/rusty work area. Every time I see a rusty bolt, I replace it.
Future: To my knowledge (ie, the Carfax), the timing belt has never been changed. An Aisen kit has been purchased from Rock Auto. Misc springs and seals and tools have been purchased. I plan on following this excellently long and thorough walk-through this fall.
SUSPENSION/STEERING
Summer 2021: Been doing some wrenching on the RAV4:
★ New control arms, bushings, and rear brackets
★ New sway bar links
★ Cleaned up sway bar (grind, primer, paint)
★ New sway bar bushings
★ Replaced ripped steering boot on one side and rescued twisted up one on the other
★ New tie rod ends
★ Cleaned up subframe (grind, rust prep, primer paint) and a few other rusty spots that were within arm's reach
This project started because the bracket connecting the sway link to the driver's side control arm (first photo) snapped. I eventually figured out the sway links were installed backwards, which caused the sway bar to rub against the control arm (instead of the nice 1/2″ish separation you see in last photo). My theory is this is why the bracket snapped. I don't know how many years it'd been like that.
Future: I'm into the Old Man Emu Kit. Maybe next summer. A little extra lift would be kind of fun. I'd like a strut mount brace, too, if I can find one.
BRAKES & WHEELS
Front: C-Tek rotors and Akebono brake pads. High-heat Hemi orange paint for the calipers. Rear: on the to-do list. I blacked out the alloy rims with truck bed liner, and I think it makes the whole vehicle look a helluva lot better.
CARGO AREA
The first thing I've done with my last few hatchbacks is remove the back seats. I ain't got no kids and I am rarely shuttling around more than one person at a time. Thems seats gotta GO. It makes room for good roadside junk and makes hardware store runs and camping a little easier.
I leveled the back seat footwells and put a rubber floor mat in the back of the RAV for maximum cargo space. All easily removable if i want to put the back seats in. Maybe it'll be practical for hauling stuff or maybe it'll be annoying. Felt like trying it.
AESTHETICS, ETC.
When I bought it, I wasn't sure I was going to like the green paint job. It has grown on me. It's a nice deep green, not the horrific teal I've seen on some RAVs. But the silvery plastic trim irks me. Too much like a Subaru Outback or something. Just… ehh. I might black it out with truck bed liner, which might make it too black, I dunno. The longer I leave it silver, the more I accept it as looking pretty good. Funny how that works.
Open box return roof rack from eTrailer and a Harbor Freight roof basket. Starting to like the look.
Hella fog lights mounted but not wired up yet. I found regular hardware store brackets that matched holes on the top of the bumper crossmember. We'll see how it works out.
---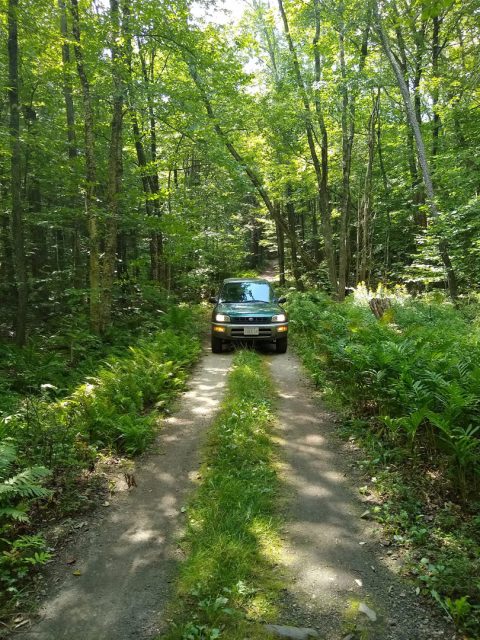 Possibly handy for RAV4 owners a-googling their first generation 5-door SXA11 or SXA16 Toyota RAV4.
exterior:
body length: 163″
body width: 67″
stock height: 65″
interior:
rear hatch opening: 41″x41″
rear hatch to rear seats folded down: 30″
rear hatch to rear seats folded up: 45″
rear hatch to backside of front seats with rear seats removed: 58″ish (my setup)
rear hatch to glovebox/dash: 90″ (ie, you can fit 2x4s in there with the passenger seat folded down)