Club Scout: The Rendezvous Welcomes Art Exhibit
The area is brimming with quiet, multi-talented types who create all sorts of stellar works across different platforms.
One of those folks is a Northampton guy by the name of Tom Pappalardo.
A graphic designer, illustrator, and animator by trade, Tom operates under the business name Standard Design. But Tom also creates as a writer, cartoonist, musician and an all-around creative. He plays in a rock duo called The Demographic, has released five albums, and once had a song featured on NPR's Car Talk. He has also has published a book of his comics and writing called "Everything You Didn't Ask For."
Sounds like an interesting guy, right? Well, if you're intrigued (and I think you should be), you can catch Tom a couple of times at a few clubs in the next few weeks, working in two areas of his arsenal of talents.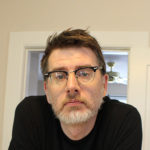 On Friday, there will be an opening for his new art exhibit, "Sorry-Go-Round," at The Rendezvous in the Turners Falls section of Montague. The exhibition will feature some of Tom's paintings and collages of old record covers and will be there until December.
In his promotion copy for the show, Tom invites people to come and view his art while having a drink at The 'Voo, saying, "The drinks will make the art seem much more appealing." (He's also a very funny guy.)
Then, on Oct. 31, he will be playing songs at Luthier's Co-op in Easthampton. (He's also obviously brave, playing a gig on Halloween night, when everyone gets a little crazier.)
So check out one or both of these shows. The Rendezvous is at 78 Third St. in Turners Falls and Luthier's Co-op is at 108 Cottage St. in Easthampton.
– George Lenker, The Republican / masslive.com
---
A little absurdity is a good thing and if your life is feeling a bit routine, shake it up with a visit to Turners Falls to check out an exhibit by Northampton artist Tom Pappalardo. Well-known for his graphic design work, as well as his cartoons, paintings, and essays, Pappalardo is sharing a collection of collages and paintings he's made for a show he's calling "Sorry-Go-Round." A musical theme runs through the work on view at The Rendezvous in Turners Falls through "Decemberish." In his Facebook invite to fans, Pappalardo advises that having a few drinks at the restaurant "will make the art seem much more appealing." But we don't think you need to have a buzz on to appreciate the glorious madness.
Artist reception Oct. 9, 7 p.m., Free; The Rendezvous, 78 Third St., Turners Falls; "Sorry-Go-Round" on display through December.
— Kristin Palpini, The Valley Advocate
---
Nice little shout-out in Kolaj Magazine.